Tournament - Players Refresh
The Refresh player details dialogue allows details of players in the tournament to be refreshed from the Master list of players.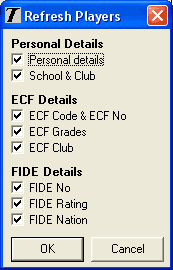 When a player is added to a tournament a copy of the player details are taken and stored for the player as a historical record on that player at that time of the tournament. If the player on the Master List is updated the details of that player are not automatically updated in each of the tournaments. However, they can be updated by using the Refresh players menu options. This options refresh some or all of the player details in the tournament from the player details on the Master list as follows:
Personal details (Name, Gender, DOB).
Club & School.
ECF Code & ECF Membership Number.
ECF Grade (Standard play and Rapid play).
ECF Club (Club, County, Union).
FIDE Number.
FIDE Rating and title.
FIDE Nation.
Some or all of these details can be updated as required.
These options are very useful when players have been set up on a tournament and then a new ECF Grading or FIDE Rating list is published and needs to be loaded.