Registration Process
Requesting Registration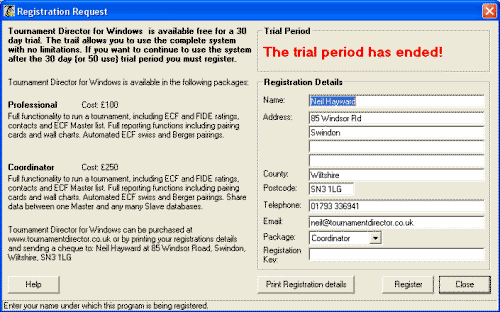 During the trial period the Registration Request dialogue will displayed when you start up Tournament Director for Windows or Open a 'Master' database.
Requesting Registration
If you want to purchase Tournament Director for Windows, you must request a registration key. To do this complete your name, address, telephone number, email address and select the required package. Details of each package are displayed on the right.
Once you have completed your registration details click on the Print registration details button to produce the registration request letter. Send the letter along with the payment to the address on the letter.
You will then be sent a Registration key by email (so please ensure your email address is correct) within 5 working days.
When you receive your Registration key, use Help->Registration... from the menu and enter the Registration key.
Tournament Director for Windows is then registered and you will be able to continue to use the software.
Registering a purchased version
If you purchase Tournament Director for Windows directly from a vendor with a registration key, complete all your registration details, including your email address. Ensure you have selected the correct package and enter your registration key. Click on register to complete the process.
If you want to be kept up to date of future enhancements please contact me with your registration key.