Tournament - Player Details
The Player details dialogue allows you to create update details of an existing player.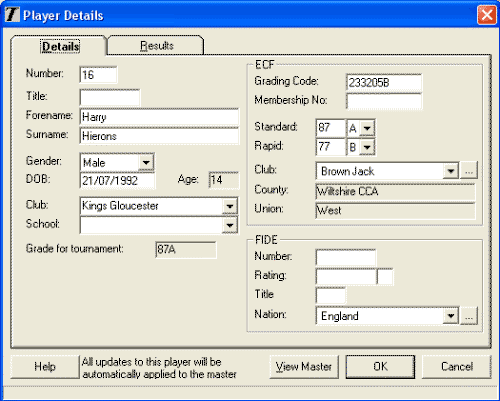 New Players can not be created or existing players delete on this dialogue, Players can only be added to and removed from the tournament via the Player List dialogue. When an existing player is being update the current player details are displayed and can be updated as required.
Surname and Forename must be entered, all other fields are optional.
Updates made to the player's details are automatically reflected on the Master details for the player.
Age is automatically calculated and displayed based on date of birth and the 'age at date' held on the Options dialogue.
The Club and School drop down lists are dynamically build. When an entry is made for one player it will appear in the drop down list so that it can be used for other players. This helps to avoid typing errors on club and school names and so improve the quality of the data.
If an ECF Code or FIDE Number is entered, the player will be automatically matched to the player on the ECF Grading or FIDE Rating list. If an ECF Code or FIDE Number is removed from a player the link to the ECF Grading or FIDE Rating list will be lost.
When the ECF Club is selected County and Union associated with the ECF club will be displayed from the ECF Club list.
Pick buttons
The pick buttons '...' to the side of the ECF Club and FIDE Nation provide access to a standard pick dialogue which allows easy search and selection.
View Master buttons
The View Master button displays the Master details dialogue for the player.
ECF Specific
If a player is included in a tournament that is submitted to the ECF for Grading, the gender, date of birth and ECF Code (if known) and ECF Club must be entered. Player details will be validated when you submit the tournament results for ECF Grading.