Overview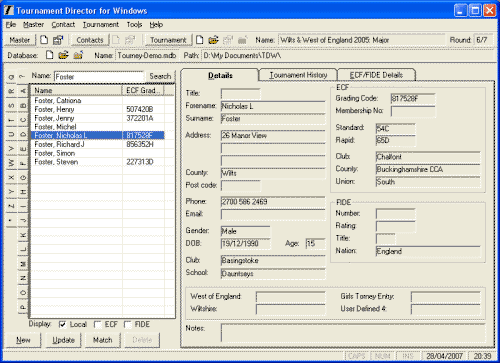 Chess tournament software that lets you organise and run chess tournaments. It is designed around the English Chess Federations rules and regulations for running chess tournaments.
Tournament Director for Windows is windows based chess tournament software and is simple to use. It allows you to:
maintain a master list of players, including grading information,
load the ECF Grading or FIDE Rating list onto your master list,
create and run tournaments,
add players from the master list into tournaments,
record players, pairings and results for the tournament,
automatically produce Swiss or Berger pairing systems,
produce a multitude of reports from the master list and a tournament including player lists and cross tables,
view a history of all games played by a player in tournament on the system,
submit results file to the ECF for grading.
Data can be shared between databases using the master/slave functionality.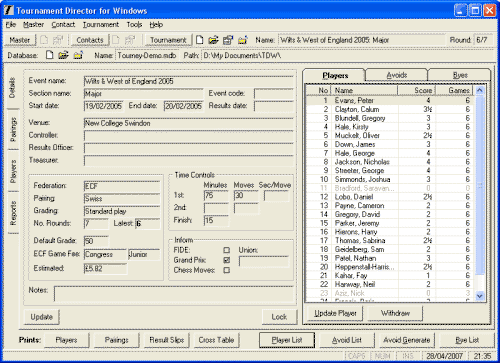 The chess tournament software uses a Microsoft Access database, so the data can be easily used with other Microsoft products like Word, Excel, etc.
If you already use the DOS version of Tournament Director, it is possible to import your database, so that you will not lose any information from previous tournaments.
Tournament Director for Windows is available for download for a 14 day trial. If you wish to continue to use the software after the trial period ends you must purchase and register it.
To help you get a better feel for this Tournament Director for Windows, you can view the user guide , which provide a description of all the functionality.
If you have any specific questions about Tournament Director for Windows, please contact me.