Master - Bulk Update
The Bulk Update dialogue allows you to update the User Defined fields for a set of selected records.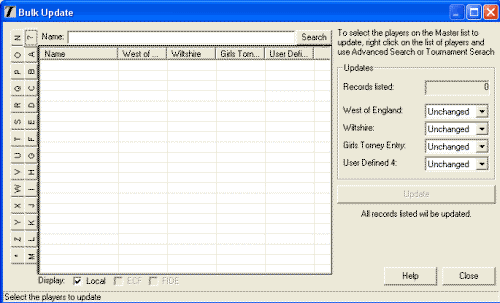 Player list
The left hand side displays a list of players to be updated. This uses the standard list processing to allow you to select the required players. The Advanced Search and Tournament Search buttons provide rapid access to the standard list Advanced search and Tournament search processing.
The Update frame allows you to specify the values for each of the User Defined fields. Fields can be updated individually or in combination as required. Just select the required value from the drop down lists.
The labels for the User defined fields can be updated via the 'change' hyperlink which displays the Options dialogue.
The Bulk Update button updates the User Defined fields with the required values for all the selected players on the Master list.