Tournament Update
The tournament details dialogue is used to display tournament details for viewing, updating or deleting.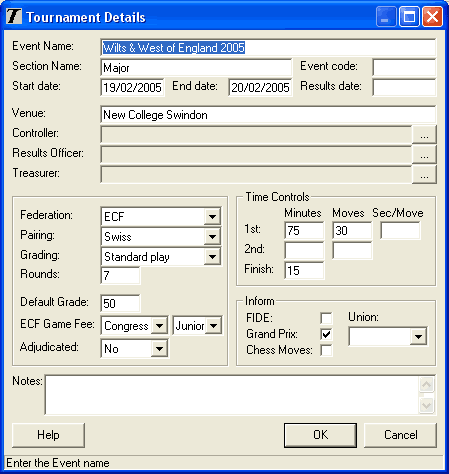 When a new tournament is being created the dialogue is initially blank. When an existing tournament is being update the current tournament details are displayed and can be updated as required. When a tournament is being deleted, the current details are displayed, but cant be changed.
For new and updated tournaments Event name must be entered, all other fields are optional.
To select a Controller, Results Officer or the Treasurer click on the ... button next to the display field. This will display the Contact selection dialogue which allows you to select, create or update new contacts.
The Tournament Type (Swiss and All Play All) is used to control the automatic pairing method used (if automatic pairing is used).
The number of rounds can be changed, but it can not be changed to less than the number of rounds already played.
If a tournament only has a single time control (e.g. all moves in 65 minutes), then enter the time control in the To Finish. Do not enter it in 1st time control.
Note: The Grading system (Standard play or Rapid play) is not used when a tournament is submitted, the time controls are used to determine Standard or Rapid play. They are only used to determine the ECF grade to be used for the tournament.
ECF Specific
If a tournament is submitted to the ECF for Grading, then Section, Event Code, Start, End and Results dates, Results Officer and Treasurer must be entered along with the time controls for the section. These details will be validated when the tournament results are submitted for ECF grading.
If ECF Game Fee tournament type and age group are entered the system will display a calculated game fee amount for he tournament.